Despite the growth that Tron is experiencing at a technological and commercial level, Justin Sun's company is no stranger to controversy, and during the last few days, a series of disputes have arisen out of Lucien Chen's departure from the project.
The Story
It all started on May 10, 2019. Lucien — who until then was treated as Chief Technology Officer at Tron Foundation — announced his resignation. This could have passed as a normal change of executives if it was not for Mr. Chen explained that he was doing it to devote himself fully to a new project: Volume Network which intended to "rebuild a new TRON".
The post is quite& critical and Chen explains that from his point of view, TRON has departed from the faith of "decentralize the web". Chen considers that Tron is no longer a decentralized blockchain, has no association with the internet and is "basically a gambling and funding Project". Chen explains that due to irreconcilable differences with Sun, he chose to develop Volume Network to give life to what he considers Tron's original idea:
& "I am deeply sorry to see the project that has grown up in my hands has become like this. The dreams and visions that Justin told me have been ruined. After several months of thinking, I decided to start the Volume Network(VOL) Project. Why should I do the VOL project? What is the VOL project?

Volume Network is a truly decentralized blockchain project. This is the project I dreamed of when I first joined TRON."
Justin Sun Reveals Chen Was Fired Due to Disciplinary Reasons and Denies Chen's Position as CTO of Tron
After this news spread, Justin Sun ignored Chen's influence in the project's development, basically implying that he was lying and promoted himself as CTO and Co-founder of Tron only to give notoriety to his new enterprise.
In his official Weibo account (Weibo is a kind of Chinese Twitter clone) Sun says that Chen was an "ordinary employee" and explains that he was fired in January 2019 for having several legal accusations: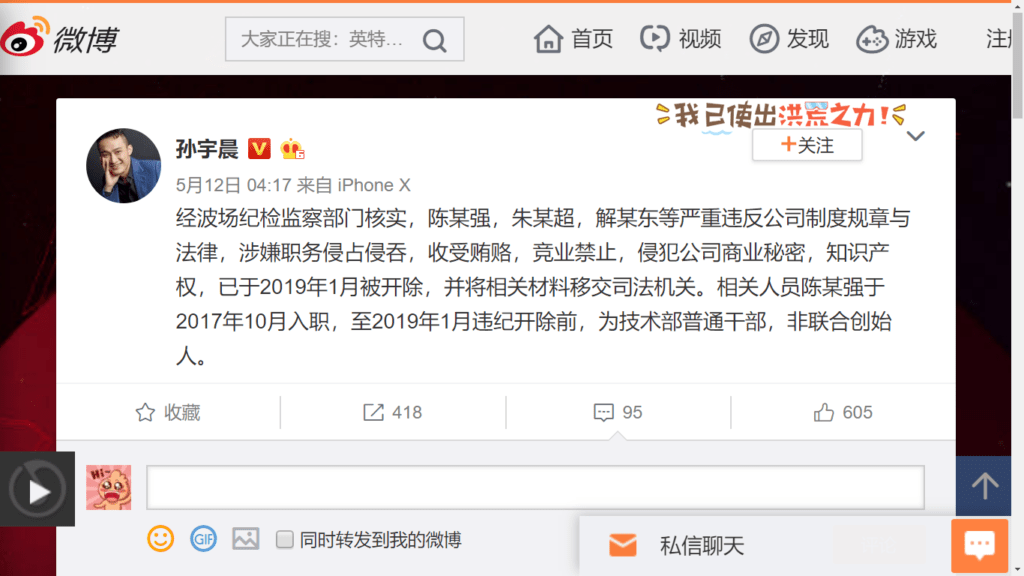 & "According to verification done& by TRON's discipline department, Z. Chen, J. Zhu, X. Xie had seriously violated laws and company rules with alleged corporate property embezzlement, bribery, non-compete violation, infringement of corporate trade secrets and intellectual properties, and had been fired in January 2019. TRON has submitted relevant materials to the justice department. Chen joined Tron in October 2017. Before he was fired in January 2019, he was an ordinary employee on the technical side and was not a co-founder."
This is quite& curious as Justin Sun has referred to Chen as CTO of Tron on previous occasions.
Lucien Chen Fights Back and Sends a Clear Warning to Justin Sun
Justin Sun's accusations did not sit well with Chen, who published a new post on May 12 on Volume Network's official blog, in response to Justin Sun's statements.
Chen explained he was suprised that Justin Sun denied that his involvement in Tron as Co-founder and CTO. He also posted evidence that until his departure everyone at the Tron Foundation considered him to be so. But what made the most commotion was a warning sent to Justin Sun, stating that the path he was taking could lead to legal consequences:
& "Justin accused me of "employee embezzlement", and "taking of bribes" which is image damaging and I won't take it likely the next time I'm slandered in this manner. I have consulted my legal team, here are a few of their suggestions below:

1. File a civil lawsuit to the court& …

2. File a criminal private prosecution in accordance with the criminal procedure law"
Chen, however, explained that he decided to devote himself fully to the Project, leaving aside legal disputes, although he clearly& warned that "if Justin takes any more personal attacks and slanders on me again, I will return in legal actions."
So far, Justin Sun has not responded to Chen's warnings. Let's hope for the sake of the community that each one focuses on their own project, leaving differences aside, and helping build a better community
The post Tron (TRX) Soap Opera Update: Former CTO Leaves Tron to Build a New Project and Threatens to Sue Justin Sun if He Keeps his Attacks appeared first on Ethereum World News.