With the leading pair BTC/USD finally breaking above the major $5,400 - a wave of positive predictions flooded in from analysts and the crypto-community in general as per today's performance.
Read - Bitcoin To Rally Past $6,000? Crypto Analysts Weigh In
The highest gaining for the top-ten leading cryptocurrencies is the 10th ranked by market capitalization Cardano (ADA) which now is counting above $2.0 billion market capitalization and it seems like it is closing-in to XRP's rival Stellar XLM that is standing at $2.193 bln. Per time of writing the pair ADA/USD is changing hands at $0.0773 with 5.10% increase in the last 24-hours.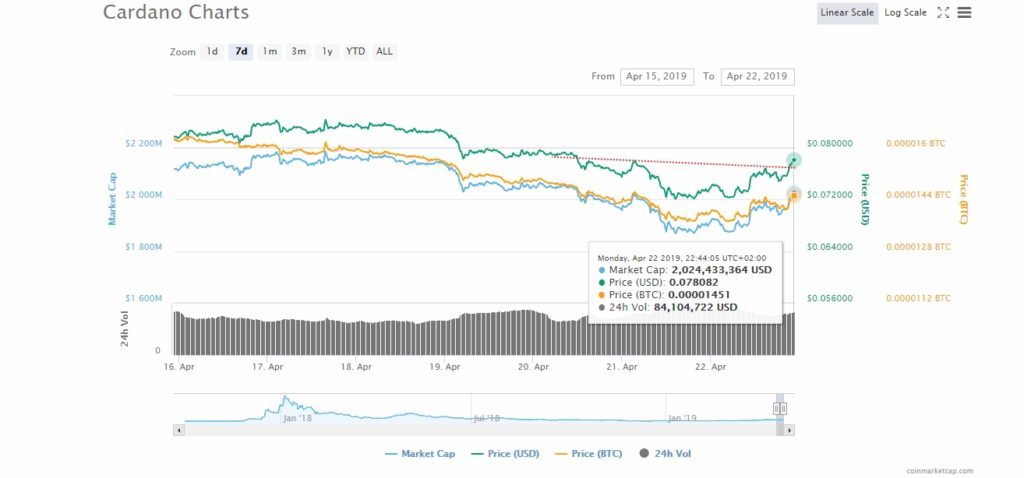 Taking in-consideration the well impacting effect of the complete market sentiment, seeing how the daily trading trend is cleared with a chance of positively closing above it is possible that in the few coming days Cardano's native token ADA will return at $0.0800 or above against the US Dollar.
In a previous title related to Cardano, the team at EWN highlighted Charles Hoskinson's [Cardano Founder and Inside Outside Hong Kong CEO] opinion on the future of crypto. Mr. Hoskinson gave a critical take on ETH and EOS during and interview with Fortune in the beginning of the month. He told his interviewers that the strength of cryptocurrency moving forward will be through defining itself as a decentralized industry–one that necessitates 'leaderless-ness.'

"This is the first time ever where we're flirting with the idea of a corporation without a CEO or a country without a president. That is a very big challenge and it's something I think will consume the majority of the 21st century for the cryptocurrency space."
He sees other projects in the same industry as they are promoting a top-down approach, establishing figures that are similar to a "president or king or committee or group that we've endowed with special powers." According to him true decentralization would be a bottom-up community.
Read also:Cardano ADA Founder Charles Hoskinson Says Cryptocurrency Needs Interoperability
The post Cardano ADA/USD Returning to $0.0800: Going for Stellar XLM Position after Reaching $2 bln market cap appeared first on Ethereum World News.